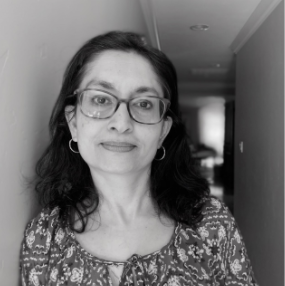 Rajashree Srirangarajan has been ICC Main board member since February 2020 and is now spearheading the ICC West Valley chapter. She is an American Speech-Language-Hearing Sciences Association (ASHA) and California state licensed Speech-Language Pathologist. Most recently she was the Chair of the Speech and Language department at AchieveKids, Palo Alto where she worked for 25 years. Rajashree incorporated her clinical research in building evidence based intervention tools and strategie. She spearheaded innovative theater programs to work on pragmatic communication skills in her clients on the Autism spectrum disorders as well as other communication challenged special need individuals. She was a co-founder of Pragmatom, a developer of Augmentative and Alternative Communication tools (and screening apps) for special needs individuals based on her evidence based clinical research and intervention practices. She is currently working on establishing home based intervention tools and strategies for clients and their families on the Autism Spectrum as well as clients with speech and communication needs, as a private practitioner. She also volunteers at the Reading Partners, an organization that partners with schools to help students who are behind grade level in their literacy skills and helps them become more confident readers and critical thinkers.
Rajashree is also an American Fitness Professional association (AFPA) certified pilates instructor. She has been teaching pilates at the ICC Fitness Center (Main) as well as at ICC West Valley.
Together with her husband, Sekhar Sarukkai, Rajashree has been an active member of the Indian arts community for many years such as with the Chitresh Das Institute where both her daughters learned Kathak. She has also been on the fundraising committee for Chhandam School of Kathak founded by Pt. Chitresh Das. She has been an active lead parent representative at Castilleja school and has been an active parent volunteer at Stanford and UCBerkeley. Pre-COVID-19, Rajashree regularly organized baitaks/concerts of senior Carnatic and Hindustani artists from India as well as upcoming local artists. She continues to be passionate about supporting an inclusive platform for performing artists from the Indian subcontinent that will enrich the community.