ICC West Valley Girls Robotics
REGISTRATION IS OPEN FOR THIS PROGRAM
September 17, 2022
@
9:00 am
–
12:30 pm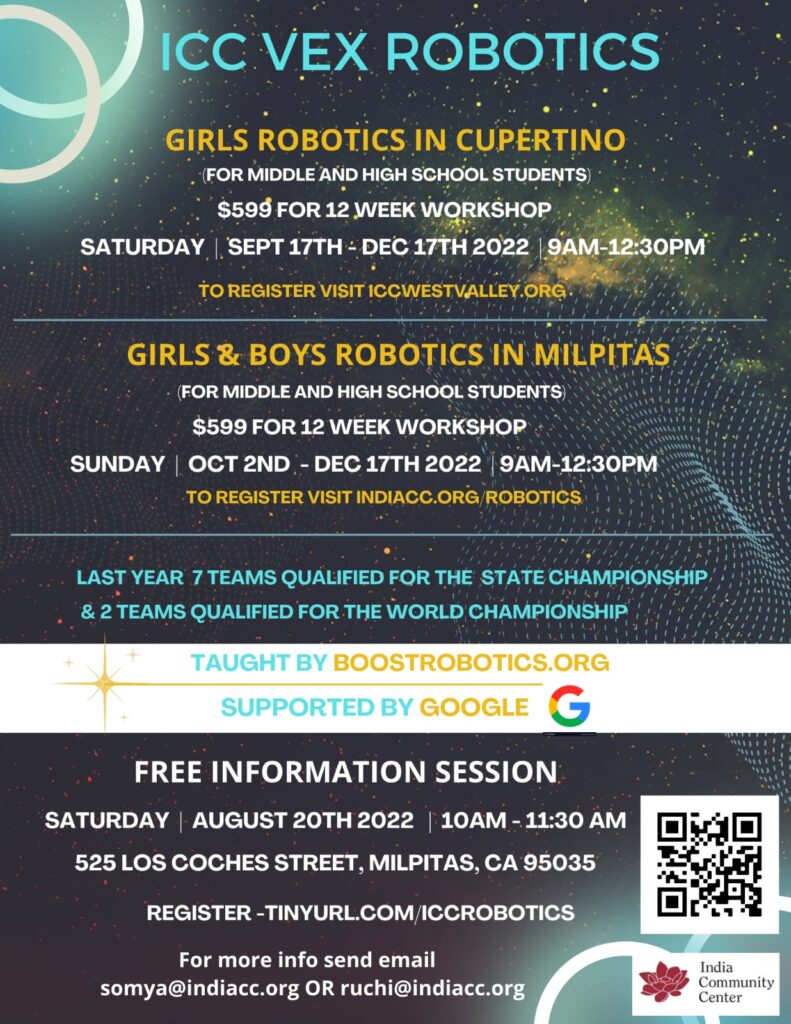 REGISTRATION IS CLOSED FOR THIS PROGRAM
————————————————————————
India Community Center (ICC) West Valley chapter is thrilled to announce a Girls Robotics workshop for middle and high school students. It will be hosted by the ICC West Valley chapter in Cupertino.
A 12 weeks program
Date Sept 17, 2022 – Dec 17, 2022 ( No session on Oct 22nd and Nov 26th)
Day – Saturday
Time: 9AM to 12:30PM
Venue – Ivan Hall, Union Church of Cupertino, 20900 Stevens Creek Blvd, Cupertino, CA
The program will have a $599 fee per student to cover the expenses of the robotic equipment and tools. This fee includes all the tools and instructions to build a competitive robot. Each team will be between 4 to 5 students and will also require at least one and up to two adult mentors who should be with the team during the hours that the teams meet.
Boostrobotics.org will provide coaching material in the form of presentations and video instruction to build the first competitive robot including programming.
Registration is considered complete only after payment is received.
Contact: [email protected] for program information
FAQ Information: https://tinyurl.com/2t9ffbuj